Me, My self and I...
Actually!!! - Thats what this page is about.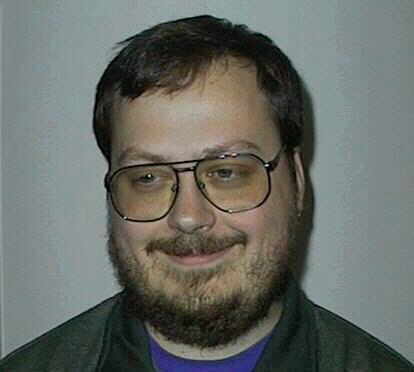 This picture was taken in December 1997. - I'm not sure if it was the camera, or the photographed object there is to blame for the result...

---
Data list.
Person data:
Name:
Per Christiansen
Address:
Kærvejen 2, 8983 Gjerlev-J, Denmark.
Phone (GSM):
+45 20 22 63 14
Date of birth:
June 10th 1967.
Maritual status:
Divorced.
Hobbies:
Amateur radio (ham radio), electronics and computer.
Amatuer radio is a hobby wich can be enjoyed in many different aspects.
First of all, you are allowed to build your own radio equipment, both for receiving and transmiting radio signals. Amateur radio operators communicate using a broad variaty of means, as telegraph (morse code), speach, writing and picture transmitting. This is done either direct from station to station, or via repeater, satelite or reflections of eg. the moon. When engaged in this hobby, a lot of contacts with other amateurs arround the world are made. Therefore the communication often are acomplished in english.
My school and job experiences, in cronological order (Danish - Any questions, please ask):
Folkeskolens 10.klasse udvidet afgangsprøve (Juni 1984).
EFG Jern og metal (August 1984 - Juni 1985).
HTX El-teknisk linie (August 1985 - Juni 1987).
Uddannelse som Radiotelegrafist (August 1987 - Juni 1988).
2 års ansættelse som radiotelegrafist hos Mercandia rederierne (Oktober 1988 - Oktober 1990).
3 års ansættelse som kursus underviser indenfor EDB & Radiokommunikation ved Marstal navigationsskoles kursusafdeling (Januar 1991 - December 1993).

En periode var jeg ansvarlig for skolens PC-rum, hvor en af opgaverne var inkøb, opstilling og installation af 13 nye maskiner.
6 ugers ansættelse som timelærer indenfor Matematik ved VUC Svendborg (Marts 1994).
6 måneders ansættelse som fabriksarbejdsmand hos L.P.Weidemann i Rudkøbing (1994).
Uddannelse som datamatiker ved Tietgen skolen i Odense og Århus købmandsskoles informatik, strategi linien. (Februar 1995 - November 1997). - Hovedopgaven omfattede: undersøgelse af færdige systemer, udarbejdelse og præsentation af mulige løsningsforslag og de første faser af objektorienteret systemudvikling af et elektronisk arkivsystem hos landets førende korn og foderstof koncern (KFK).
Pr. 1. December 1997 ansat som systemudvikler hos MD-Foods, Skanderborgvej 277, 8260 Viby-J.
---
Webmaster (oz1kad@oz1kad.dk).

Opdateret d. 26-12-98